About Simon Clayton REALTOR ®
#1 individual agent in 2022 at Macdonald Realty Vancouver
+1 (604) 764-0711
Simon Clayton Realtor Vancouver Macdonald Realty.
2023 is my 20th year as a Realtor, licensed to sell
Vancouver Real Estate, being involved in hundreds of MLS transactions on the listing and selling ends of west and east side Vancouver properties. Since being licensed in 2003 I have represented clients in the sale of greater than $500,000,000 in Vancouver Real Estate. Born and raised on the West side of Vancouver in the Southlands neighbourhood, I am now a proud resident of the East Vancouver neighbourhood Main / Fraser Street, where I live with my Wife and Daughter.
My business has continued to grow throughout Vancouver. I have branched out from my focus on the West side of Vancouver and become very successful in listing and selling homes on the East side of Vancouver, Downtown Vancouver, Yaletown, West End, and Gastown. I also work with listing and selling property in Richmond, Burnaby, Coquitlam, and North Vancouver and beyond.
I have been awarded by my company, Macdonald Realty, for being among the highest sales agents with our company's "Sales Achievement" award and the "Award of Excellence" for 14 consecutive years. I am
among the "Top 10 Agents" in the Kerrisdale Macdonald Realty office out of approximately 190 realtors and was the #1 agent in Vancouver in 2014 (non-team). I have also been awarded the Medallion Club award from the Real Estate Board of Vancouver (REBGV) for being among the top 10% of all Realtors in the City of Vancouver. I am currently a member of the MASTER Medallion Club.
Social media is an important part of my business practice. You can find my profiles on Facebook: Simon Clayton, Vancouver Realtor Twitter: @604Realtor Instagram and Vimeo, all with the same name 604 Realtor.  I make use of a DJI Phantom 2 drone

for marketing my listings with real estate photos and video, you can see some samples on my video marketing page. Please also visit my foreclosure homes listing page in the left side menu. I am one of few real estate agents who specialize in foreclosed homes and luxury real estate in Vancouver, Canada.
A Full Service Real Estate Company
For over 75 years, Macdonald Realty has been helping make our client's lives easier.  What started in 1944 as a boutique real estate office in Vancouver's Kerrisdale neighbourhood has grown into a fully integrated real estate company, With over 900 staff and agents in offices across BC, our local experts are your go-to source for your real estate needs. Macdonald Realty is unique in offering a fully integrated range of real estate services, including residential and commercial brokerage and leasing, property and strata management, development and project marketing and mortgage brokering and lending.
As is often the case, timing is everything. In our case, our company's transformation coincided with Vancouver's rise on the world stage. Perched on the Pacific Rim, attracting visitors, celebrities and investors from around the world, almost overnight the city went from being an undiscovered jewel to an international hotspot — and one of the hottest real estate locations on the planet.
Since then, our company has continued growing. We know British Columbia, from its big cities to its small towns, with offices in the province's major real estate centres — including Vancouver/the Lower Mainland, Whistler, the Okanagan, and Vancouver Island. Beyond BC, through connections and a trusted network, our reach stretches much farther: across Canada and around the world.
Simon Clayton Realtor Office Locations:
Vancouver, BC Canada
Office:604-263-1911
Fax:604-266-3514
Detached Housing Average Price
 West Side Vancouver

 East Side Vancouver

Apartment and Townhouse Average Price
 West Side Vancouver Apartment 
 West Side Vancouver Townhouse

 East Side Vancouver Apartment  
 East Side Vancouver Townhouse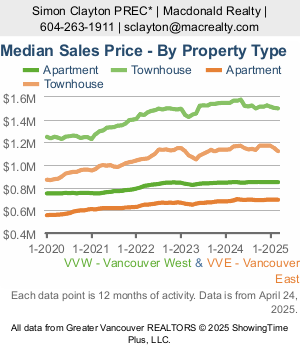 Thank You!
Medallion Club (MASTER)
Given to the top 10 per cent of Realtors in Vancouver
Macdonald Realty Awards
•#1 individual agent in 2022 at Macdonald Realty Vancouver
•Top producer in 2022 (out of approx 190 agents)
•Macdonald Realty's Most Expensive Listing sold in 2021 $16,800,000
•Top 5 individual agent in 2021 (out of approx. 190 agents)
•#1 individual agent in 2014 (out of approx. 190 agents)
•Award of Excellence 2009, 2010, 2011, 2012, 2013, 2014, 2015, 2016, 2017, 2018, 2019, 2020, 2021, 2022
•Top 10 individual agents from 2009 – 2022 (out of approx. 190 realtors)
•Sales Achievement Award 2007
John McLean, Vancouver 
I have dealt with real estate agents in my professional capacity for some 30 years. I have also bought and sold a number of properties personally. Simon is the most professional and knowledgeable agent I have dealt with. I have no reservation in recommending him.
Sandra M., Vancouver 
When my parents decided to make a change, we knew that they would need a really great realtor to walk us all through the daunting process of selling the house they had been living in for 60 years. We were lucky enough to connect with Simon, who took the time to explain the "why's" and the "when's", and to create a solid strategy that we could all understand and support. The tremendous sale price was largely the result of Simon's work and planning, and it exceeded all of our expectations. We would not hesitate to recommend Simon to anyone as a responsible, approachable and personable realtor.